The Feelies Live: Real People, New Music
by bud
022617

Have you ever noticed that some of your favorite music wasn't actually your favorite when it came out? Some of my favorite music comes from bands that have grown on me over the years, and the affinity and connection continues to deepen. This has been true for a lot of innovators, like R.E.M., The Velvet Underground and certainly for The Feelies.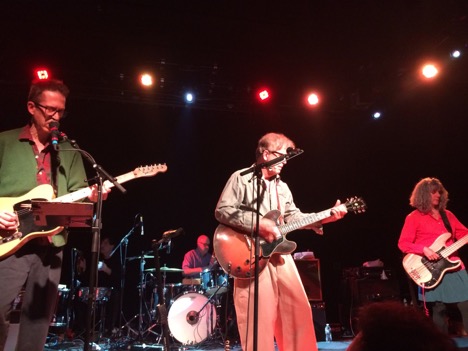 The Feelies, live at The Sinclair, Cambridge, MA, 9/16/17

During the height of college rock radio in the '80s, The Feelies had an underground following along the Eastern seaboard and in the South, burgeoning from college towns and independent radio. We were all playing in bands at the time because these bands showed us that we could do it, too. The Feelies were the buzz, but by the time my ears became attuned to their swirl, they were on the verge of an extended hiatus.

For many of us, the lure is the anti-rock-star, unassuming sound and delivery from a more humble songwriting and singing style, indicative of The Feelies and many of their contemporaries of the time. They were turning a cheek to the big arena hair and glam of the 70's. They didn't wear costumes, didn't exaggerate their voices and didn't make their instruments sound like they were launching a space ship.

This movement progressed into the '90s with the alt-rock scene, when bands like Pavement took it even further, dictating that they would sing or scream whatever they wanted, play whatever came through the speaker and capture it all in the first take, with a "take it or leave it, we don't care" approach. These bands loved their music and didn't have concern for fortunes and long-term corporate contracts.

Consider this the antithesis of bands that hang it up after they get dropped from their label following the "sophomore slump." The Feelies kept going with modest sales, yet high critical acclaim, and have kept it going for forty years! They aren't making "phat stacks" in music and they work at other jobs to support their families, but they love to come together- with the same lineup for most of their career- and share a love for making music.

In their middle ages, and with other responsibilities, they prefer spending time writing and recording to playing live. With only a handful of appearances in recent years, primarily in venues near their home base of Haledon, New Jersey, The Feelies are drawing people like me to seek them out, rather than me hopelessly waiting for them to launch a national tour.

I decided that if I ever wanted to see one of my favorite bands of all time, I would have to go to them. They delivered this past Fall with two shows in Boston and nearby Pawtucket, RI.

As a fan of fans, I came with Sharpie and album cover in hand. Being a musician of the same generation as the band, I knew how I might be able to not just see the shows, but connect with the members without a lot of noise or people around. I showed up at sound check.

I walked past an attendant at the entrance to The Sinclair in Boston and immediately met Glenn Mercer (vocals, guitar, co-writer) passing through the bar. Slight and unassuming, yet curious, he indulged me for a minute with an autograph and a radio ID recording on my phone for a local radio program that I host (Transistor Radio on KBUT in Crested Butte, CO.) It was a very pleasant interaction, as he suggested that we record in the bathroom for better acoustics and less noise.

He welcomed me to join the rest of the band to add to the autographs on my vintage LP cover of the Good Earth. The next pleasant surprise was that the band didn't seem bothered at all by my appearance at their sound check, even seemed interested in a way. We chatted, and I asked Dave Weckerman (percussion) and Bill Million (guitar, co-writer) if they had plans to join any of The Velvet Underground tribute shows that were emerging on their 50th anniversary. Bill looked blankly my way and said, "We haven't been asked." This might sum up The Feelies' mantra: they go about their business with less concern about what is happening around them. At the same time, it surprised me because the band toured with Lou Reed, and probably pulls off Velvets covers better than anyone on the planet!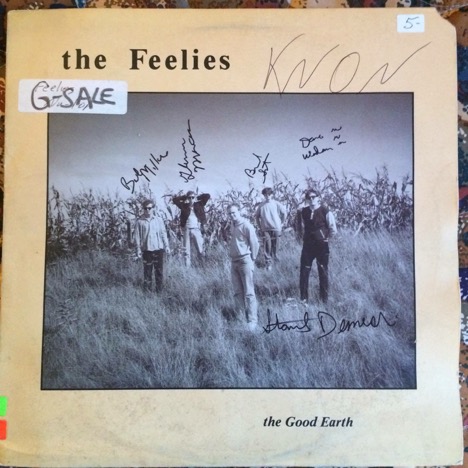 The Feelies, the Good Earth, Coyote – Twin/Tone, 1986, KNON promo, signed

I might repeat this, but they are so gracious and humble in person that you forget you're in the presence of post-punk indie rock icons. Brenda Sauter (bass) and Dave approached me with CDs of their side projects, Wild Carnation and Yung Wu.

Stan Demeski (drums) appears as precise as his drumming, sporting a pressed button-down shirt and khakis. He spends as much time practicing rudiments and tuning his drums as he does playing them. Stan was my first connection with the band, having met him while he toured with Luna.

Since I had made the trip to Boston from Colorado, I signed up for both shows: the first in Boston at the Sinclair, and the next night at the Met in Pawtucket, RI, about thirty minutes away. The crowds consisted mostly of casual, civilized, middle-aged men with sound post-rock databases between their ears. I overheard conversations ranging from references to Max's to Peter Buck co-producing the Good Earth. I also heard several people claim that their favorite part of the music was Dave's percussion, "It wouldn't be The Feelies without Dave!"

The first feeling that consumed me and pervaded the evening was uncomfortable silence and disassociation. The members mounted their instruments without looking up at each other or saying a word. The magic began as this combo- who has been playing together for several decades- presented the jangles, steady rhythms, colorful percussion and dry, unassuming vocals that have been imprinted in our musical minds.



The Feelies speak best with their instruments and microphones. The songs build from awkward silence to a frenetic frenzy with Glenn bouncing and falling off stage and Bill strumming chords so fast that only a 1000 speed SLR could capture the moment. Stan and Dave complement and contrast each other with machine gun syncopation and off-beat wood blocks and shakers. Brenda maintains a steady bass rhythm with the backbeat. She is the sole spokesperson, with an occasional smile, "Thanks," and "This is on the new record."

Brenda also sang one of the most memorable covers of the first night: "Dancing Barefoot" (Patti Smith, 1979). A couple of other notable covers which revealed the band's roots were "See No Evil" (Television, 1977) and "I Wanna Be Your Dog" (Stooges, 1969).

The new material blended so well with their catalog that the audience often looked at each other with "Is that a new one?" "Flag Days" is a new track that resonated strongly with the crowd, as it came off with great energy and the feel of a live Tom Petty rock anthem.

Speaking of new material, their first release since Here Before in 2011, In Between continues the fantastic progression of an almost New York punk band that adheres to their sound and purpose while relaxing the tempo a bit and doing exactly what they are "feeling."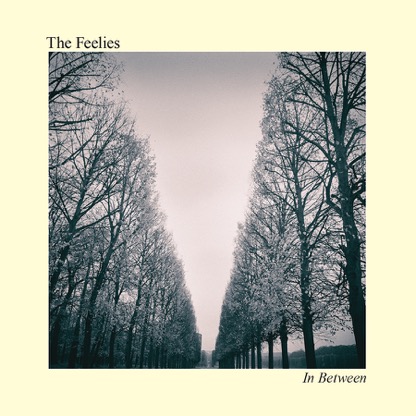 The Feelies, In Between, Bar/None, 2017

The album starts with crackling wood and chirping birds. The title track, "In Between," eases into an acoustic prelude reminiscent of the their recent live show opener, "When Company Comes." The lyrics share honest mid-life questions and observations that apply to any time in life ("When To Go", "Time Will Tell",) but always with hopeful messages to "Stay The Course."

This is true Feelies with a little more experience, continued chemistry, no anxiety and more peacefulness. The delivery is modest and always melodic, just like their stage presence. They end the album with classic Feelies crunchy mesmerizing underground rock. "In Between (Reprise)" sounds like Ira Kaplan might have been a guest in the studio – like a Yo La Tengo jam channeling VU circa Train Round the Bend.

Glenn told me that they recorded the album in his home studio digitally, but it didn't sound right so they ran it through a tape machine to warm it up. Bill mic'ed his Gibson 335 close to the instrument to pick up the acoustic sounds of the guitar and capture the natural room reverb from the amp. Stan said the recording was more intentionally lo-fi than previous recordings. He was in another room, matching Bill's rhythm parts. The sound is dry, imperfect (they left in sniffles, amp noise and footsteps,) and Stan didn't require himself to be metronomic in his delivery. There are psychedelic moments with flute and bending, twisted leads.

In Between is a beautiful, cohesive production, evidenced by veteran players and friends working together in a relaxed home environment. The Feelies are an anomaly, having beaten all odds by staying more true to their sound than almost any band imaginable by sticking to their own ideals, maintaining families, avoiding the burnout of touring and doing what they love the most: writing and recording when the time is right and they "feel" it. Speaking for the fans, we will gladly trade active touring for continued recording and output from The Feelies, so don't change a thing.

Bud is a DJ and host of Transistor Radio on KBUT, Community Radio, Crested Butte Colorado. @blacklightbud